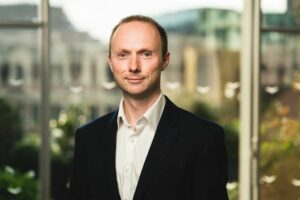 Kajima has appointed Stephen Young as Senior Investment Manager based at the newly located office in St Giles Square, London.
Stephen joins Kajima from Fizzy Living, a joint venture between Abu Dhabi Investment Authority and Metropolitan Thames Valley Housing Association. Over the last 6 years, Stephen has managed a portfolio of 1,000 residential units across London and the Southeast, including 111 units at Blackhorse Road in Walthamstow and 292 units at Brunel works in Canning Town. Stephen is a Chartered Surveyor and holds a master's degree in Real Estate Management from the University of Reading.
Stephen commented: "I will be supporting Kajima by helping to grow our exposure in the European residential area, which includes Build to Rent and Co-Living sub-sectors, among others.
The residential living sector has shown particularly strong resilience during the pandemic, supporting the widely held view that the fundamentals underpinning this asset class are here to stay.
Kajima already has a substantial Polish student housing portfolio with Student Depot and a Private Rented Sector project in Gdansk, Poland which is now under construction. My role will be to examine new residential opportunities and work with our selected partners on delivering spaces that are neatly designed and well managed to maximise quality and value."
Back to news