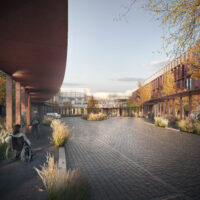 Kajima, as lead for the Acorn consortium, have been appointed to deliver the new Velindre Cancer Centre. In partnership with Velindre University NHS Trust, the project will deliver a state-of-the-art centre for cancer patients and cancer research, based in Whitchurch, North Cardiff. The site will include facilities such as; a pharmacy, restaurant, radiotherapy, imaging, and a nuclear medicine department alongside a collaborative centre for learning, research and development.
Richard Coe, Project Director at Kajima said: "We are thrilled to be chosen as the successful participant of the new Velindre Cancer Centre. It has been an exciting journey for us to develop in partnership with the Trust, a cancer centre for now and future generations, which is set to become the UK's most sustainable hospital. Our design has been developed to ensure it has minimum impact on the local environment and that it provides a practical, elegant facility in which patients, staff and members of the community can use the centre and landscaped grounds. It has never been more important for patient treatment areas and staff facilities to aid the delivery of treatment and enhance wellbeing and recovery."
The site's design proposal is to be an all-electric facility, with the use of low embodied carbon, bio-based materials, reducing the amount of energy needed to extract and transport its raw materials as well as the emissions in the manufacturing process. Natural daylight will be a key feature throughout the building, to create a calming environment for staff, families and patients. There will also be plenty of external green space, totalling around 50,000 sqm and almost 3,000 sqm of green roof space.
Back to news