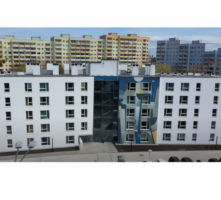 Kajima completes first modular built-to-rent project in Gdansk, Poland.
Kajima have completed one of their first built-to-rent schemes, as part of a joint venture with local investor Tonsa and Olivia Business Centre. The project spans across 3,185 sqm and delivers a range of units from studios to three-bedroom apartments and has been established as the new @Home operational platform which is now fully let. The development allows quick access to Central Gdansk, Olivia Business Centre and the rest of the Tri-City area.
Designed by Design Anatomy, an award-winning Polish design studio, the apartments are fully equipped to a high specification with tenants benefitting from a fully furnished roof terrace with open air cinema and yoga facilities, an internal social room, professional laundry service, ground floor gardens, basement parking and secure bicycle storage. The façade and common areas of the development have been decorated with graphics by Seikon, a well-known local muralist, painter and sculptor.
The project was developed using an innovative off-site modular construction process which was significant in specification and quality control. The technologies used to deliver the project decreased the amount of construction waste and carbon footprint by 11% and will allow tenants to reduce their energy consumption.
Stephen Young, Investment Manager at Kajima commented: "Having developed and managed numerous multifamily schemes globally, we are proud to continue building our European BTR portfolio alongside our partners here in Poland. As the demand for high-quality rental housing continues to grow across Europe, we see considerable growth opportunities for the future."
Back to news