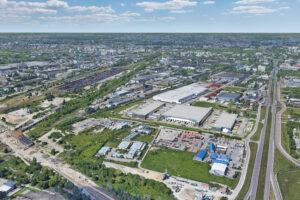 The transaction comprises an existing logistics hub of three buildings, at a total of 35,000 sqm, located next to ring-road and near Lublin Airport, Poland. Construction of the buildings was completed in 2021 and the development is now fully let.
Lublin is an increasingly important location for logistics investment and the transaction demonstrates investors' confidence in Poland's logistics market.
As part of Kajima's strategy to invest, develop and manage a diverse range of assets in Poland and Europe, including renewables and logistics, the sale of the Lublin scheme marks a significant milestone in our investment in Poland's fast-growing logistics sector.
Jan Trybulski, Investment Director and Head of Poland at Kajima Properties, said: "Lublin's logistics hub represents much needed high-quality warehousing space in this part of Poland, thus we were not surprised to see increased interest from tenants and were able to achieve satisfactory rental levels.
The sale of this scheme demonstrates that we can effectively realise our investment strategy of growing the Polish logistics sector in a dynamically changing political and business environment. The transaction is a proof that there is a demand for high quality investment product from large international players."
Back to news